Article submitted by Artesian Tan.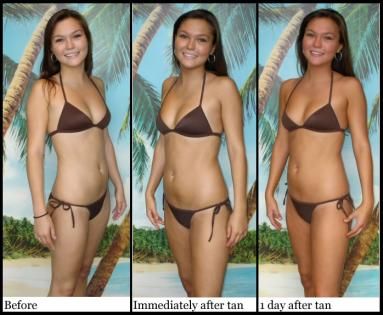 There are many benefits to having a spray tan, but let's focus on the top reasons.
1) Appear more attractive!
Studies have shown that tan people are perceived as more attractive. Of course the quality of the spray tan equipment can be an important factor to consider because not all equipment is made equal. It's not very attractive to walk around splotchy or with streaks running down your leg! Definitely do your research on the company and products you use before you undergo the process. No one wants to end up looking like an Oompa Loompa!
2) Look Thinner!
Would you like to look thinner without ever taking a step into the gym or cutting back on your beloved chocolate bars? Spray tanning is a great slimming tool. Most people appear thinner and leaner after receiving a spray tan.
3) Beat Out Skin Cancer!
Spray tans are a much better and safer alternative to tans cultivated in the sun. Not only can spray tans keep your skin looking healthier by avoiding wrinkles and dried out skin, but they can ultimately save your life. Spray tanning is UV-free and will not put you at risk for skin cancer. There are even spray tan solutions and spray tanning equipment that utilize organic products to ensure health and safety.